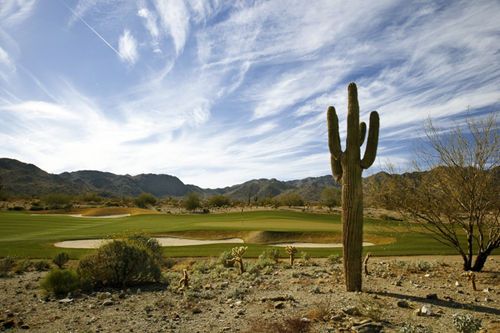 Golfers all over the valley have been talking about the Raven Golf Club at Verrado for several years now, but for those of you who haven't, golfmix is giving you a great opportunity to take your talents to one of the best courses on the West side!
Due to Arizona's annual "overseeding season" the beginning of October is usually one of the toughest times of the year to find a golf course that's not only open, but in good condition.  Lucky for us, the Raven won't be closing until October 15th, so you can expect to get a great taste of one of the State's top ranked courses.
golfmix members named the Raven #6 in Overall Experience, #10 in Course Conditions, #3 in Design, #16 in Amenities, and #4 in Pace of Play in the best of golfmix 2011.
Not only is it time to check out Tom Lehman's 2004 design, but it's time to meet some of your fellow golfmix members and enjoy what is sure to be a fun afternoon of golf including a chance to play a hole with PGA Tour winner Arron Oberholser and National Long Drive Champion Brian Pavlet, win great prizes and get some good eats in the Verrado Grille afterwards.
Plus, sign up today and receive an additional free round of golf good through the end of 2012!
Details:
12:00pm — Registration
1pm — Shotgun Start (play your own ball, on course contests and games)
6pm — Dinner and awards in the Verrado Grille